Parents in pain struggle with tremendous amounts of discouragement. Watching our children's lives ebb away because of alcohol or drugs, mental illness, repeated incarceration, or other issues, crushes our hearts. We moan inwardly as they throw away their dreams or give up on themselves altogether. Some are estranged from us and we wonder what we did to drive them away. Their rejection further crushes our bruised hearts.
We blame ourselves. Shame drives us to hide. Wrestling with fear, grief, and anger, our marriages suffer as well as our other chidlren. Trauma has made an impact. PTSD symptoms dot the landscape of our stories. The ripple effect reaches far and wide in our families. Recovery isn't easy to achieve.
ENCOURAGING SUGGESTIONS
Today I'm sharing some of the most encouraging suggestions we were given early in the journey with our daughter, over fifteen years ago. Each one was helpful and important. I hope at least one of them will be helpful for you.
Discover the difference between helping and interfering.  Take a closer look at how you offer support. Learn to detach with love. This doesn't mean disinterest . . . it is respect for another's "personhood".  (Al Anon)
Learning from pain is our life-saving goal.  Therefore, we need to be careful not to step into someone's life as a continual pattern or else we interrupt the "pain message" and interfere with the real change or healing that is needed.  (Sharon Clark Pearson)
As long as they are still breathing, there is still hope.  (a dear friend with over 25 years of sobriety)
Maintain healthy boundaries.  This will be hard for your child and for you. They won't like them. But you need to have them or nothing will ever change.
Take one day at a time.  Keep your mind where your body is (Al-Anon). Refuse to worry about tomorrow. Focus instead on what you can do today. Don't regret the past. It's done. Forgive what needs to be forgiven and let it go. You only need to cope with this moment. You can do that because God is with you and will be with you whatever happens.
Enjoy your life.  Give yourself permission to laugh again. This may feel wrong. Take baby steps. Ask God to help you enjoy your spouse, your other children, your friends, hobbies . . . your life. You can. It's ok. Don't feel guilty about that. Make time to do what refreshes you. Rediscover your dreams. And go have fun!
Say "I love you" often.  As often as you have opportunity. They need to hear those words. Many hate themselves and feel unworthy of your love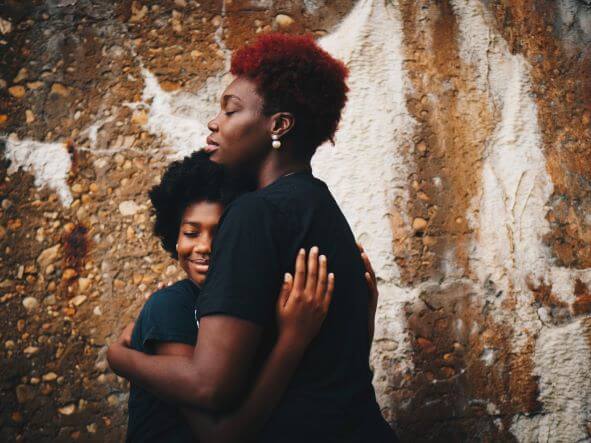 or of anything good. "I just want to be sure you know I will always love you, no matter what you have done or what has been done to you." Even God still loved us when we were in rebellion. He died for us in that condition. However, be careful not to weaken your resolve and start over-helping again. But if you do, be easy on yourself. You're doing the best you can. 
Show affection even if they don't like it.  Maybe it's a back rub, your hand on their arm, or a hug. When you don't know what to say, a hug says a lot. They may push you away, but their heart may be crying out for the touch of someone who cares. If not you, then who? There may be no one else.
Learn your child's love language.  This way you will demonstrate love in a way that is most meaningful for them, not what communicates love to you. That was my mistake. And if you are married, it wouldn't hurt to learn your spouse's love language too.
And pray! Never give up. Ask others to join you. Form a prayer team and send requests once a week – be sure to include your own needs. You need prayer too. Prayer will uplift you while you wait. Believe for the impossible. God is always working, even when you can't see any proof that He is. There is no guarantee of the outcome, but you can trust Him. He loves your child even more than you do. He won't ever give up on them.
RECOMMENDED RESOURCES
Need help knowing what the love languages are? This is a great resource: The 5 Love Languages by Gary Chapman.  He wrote a book on this subject for couples and for parents of teens, The 5 Love Languages of Teenagers. His books are very helpful for understanding those special people in your life.
For help praying: Every Parent's Battle Plan by Laine Lawson Craft, and The Power of Praying for Your Adult Children by Stormie Omartian (listed on our website)