Does your child's life look like an impossible mess this Christmas season?
Sometimes parents need a Christmas miracle.
Are they so entangled in addictive behaviors and destructive relationships that you think there's no way out?
Sometimes parents need a Christmas miracle.
Are they a wreck dealing with mental illness, jail sentences, gender identity issues or pornography that hold them in bondage? Sometimes what you need is a Christmas miracle.
If all you can see is impossibilities –  in their lives and in yours – then you need a Christmas miracle.
"… Into the middle of impossible messes — comes the Messiah who makes the miracles possible." 
–Ann Voskamp
Maybe the Miracle is in You?
Jesus, the promised Messiah, comes to us in the middle of our broken, dirty world. He comes, no matter how messed up our lives are. Our problems don't scare Him away. Nothing can make us an outcast in His eyes. With Him, anything is possible. No one is too far gone. He can even do that miracle you've been praying for; the one you've almost given up on.
Our wayward children need something else…forgiveness. They know how much they've hurt us. They berate themselves more than we know. For some, that mountain is too high to climb.
But God invites them to jump into His pool of mercy and grace. Where grace is missed, "bitterness is born. But where the grace of God is embraced, forgiveness flourishes." (Max Lucado)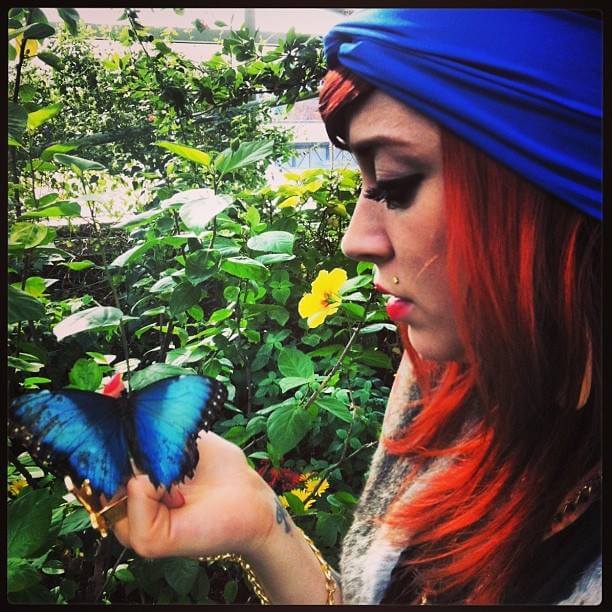 Dear friend, have you considered that possibly the miracle you truly need is the one God is doing in you? (Not that He can't or won't do one for your child.) If He can take an ugly caterpillar trapped in a cocoon and bring a breathtakingly beautiful butterfly out of it, then He can do the impossible in anyone's life.
My daughter Renee loves butterflies. One year, for a special birthday outing, she went to an indoor butterfly garden (that's her in the photo). While there, this gorgeous Morphos butterfly landed on her, opened its wings, and remained there. Astonished, the staff told her this was rare. Tears of joy rolled off my cheeks when Renee sent me this photo. For me, the butterfly symbolized how much God had done in her life, bringing her out of a mess, giving her a new life…and me too.
Morphos means change. My daughter has changed a lot over the past ten years…so have I.
She is an example of what God can do…so am I.
Today your child might be stuck in a dark place, in serious need of major changes. They may be in a big mess they can't pry themselves out of – maybe you are too.
Think of the possibilities.
For God, they're unlimited.
We're waiting, Lord. We desperately need a Christmas miracle.
I'm reminded of the words of an old Advent hymn, "O come, O come, Emmanuel, and ransom captive Israel…"
Let's pray: O Father, please do a miracle in my child. Give me strength for my weakness; hope for my despair; and joy for my sadness. Bring new life out of the shadow of death. Revive my faith that with You, both of us can rise above the mess. You can make something new out of my life. You can make miracles happen. They ARE possible – in me and in my child. In Your mighty name I pray. Amen.
Hope from Bible:
Praise be to the Lord, the God of Israel, because he has come and has redeemed his people . . . (He has come) to shine on those living in darkness and in the shadow of death, to guide our feet into the path of peace (Luke 1:68, 79, NIV).
Dear mom or dad, how can I pray for you this holiday season?