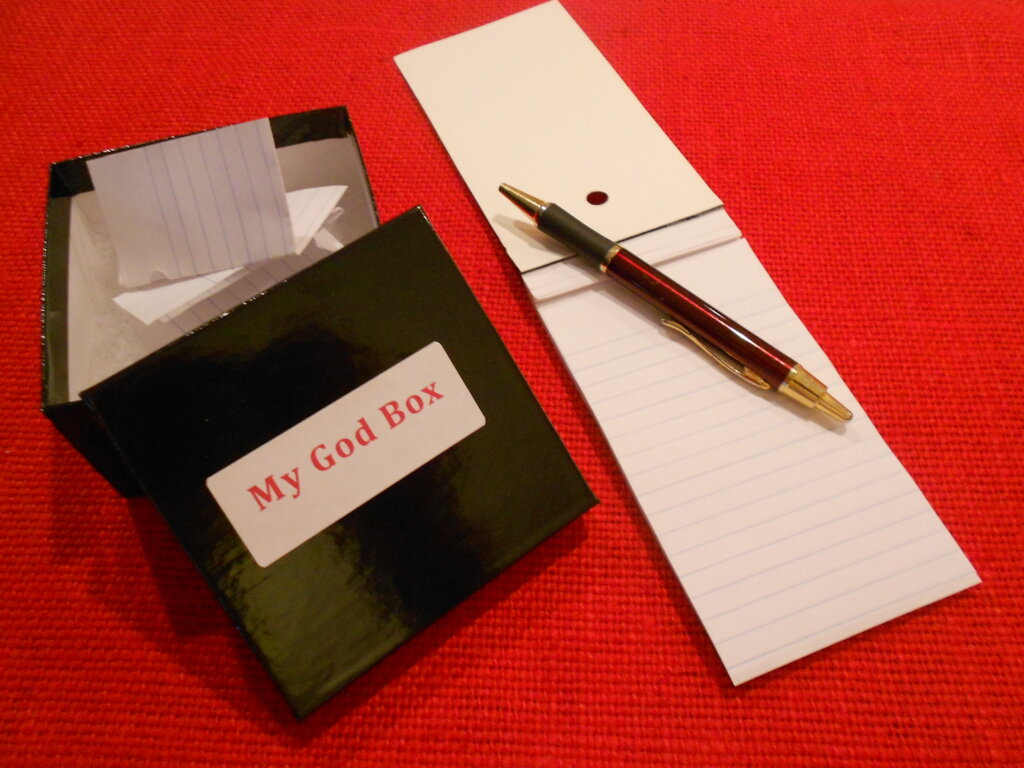 Christmas hit us last week. This COVID holiday season proves extra-hard for many people, especially parents who suffer from the destructive choices and troubles of their teen or adult age children. In my last post on December, 21st I mentioned the idea of a God Box. I didn't invent this concept, but I learned about it in an Al-Anon meeting.
Using this technique has helped  me deal with my anxieties. My heartfelt prayer for you is that a God Box will help you too–any time of the year–and especially during the holidays.
Here's How You Can Use a God Box:
Choose a box (any size) and put "God Box" or "My God Box" on the top.
Put a small notepad and pen inside.
Ask God to show you when you're anxious or upset about your child and go get the box.
Write down what's troubling you. Be honest with yourself.
Fold the paper and put it in the box.
Say a prayer of release and give your concerns to God. "I give this to You, God."
Place the lid back on and put the box away in a safe place: a dresser drawer, a closet shelf, or under the bed are a few great ideas. But be careful not to hide the box so well you can't find it the next time you need it!
A Cathartic Process
I can't explain why, but there's something extremely cathartic about this simple process.
When I write what I'm fretting over, doing so helps me recognize my feelings and provides a healthy means to express and release them.
When I tuck the paper inside the box, it symbolizes surrendering my cares to God, placing my child in His hands, and letting them go.
When I put the box away, this gesture further symbolizes the intention of my heart to let go of my worries and surrender my child back to the Lord. He's the One who gave them to me in the first place. This is a display of trust in my heavenly Father who loves my child even more than I do–far more.
After I used a God Box for several years, I got the idea of writing my Christmas Wish List (I talked about that in my last blog too). I put my list inside the box along with my other folded up papers. I needed a few days to find the time to write it – there are plenty of distractions this time of year. This was also helpful for calming my soul.
A Powerful Time
What a powerful time. I wrote about my hopes and desires for my precious child. I put them in the box. I walked away and left them there. I breathed a sigh of relief. Through this process I learned to trust God more. He used this to help me release the problems I couldn't solve on my own into His strong, loving hands.
So good for my soul.
So freeing.
Nothing changed with my child–but I wasn't the same.
A few minutes. That's all I needed.
The result: I had more peace. Fear no longer consumed my thoughts. My sleep improved because my soul was calm. I was less anxious and sad, less nervous and restless.
What a simple thing to do, yet with a remarkable outcome for my heart and mind.
Give Yourself this Gift
I challenge you to give yourself the gift of a God Box this holiday season. Find a box and get started today. This simple, beneficial process might help you find more peace and hope, like I did. You might be able to let go of your fears more as you surrender control of your beloved child more to the only One who can help them.
There are no holidays from tragedies or heartbreaking experiences. They abound in nearly every family and community around the world–especially this year. But Jesus is our Immanuel, God with us. He is our Comforter who soothes aching hearts. He is our Strength who sustains us. He is our Prince of Peace in all our troubles.
Pray with me: Dear God, help us take the time to try this idea of a God Box. Please use this simple process to bring us more peace. We look to you to help us this holiday season and all year long.
Dear friend, may these Bible verses come alive for you today:
For to us a child is born, to us a son is given; and the government shall be upon his shoulder, and his name shall be called Wonderful Counselor, Mighty God, Everlasting Father, Prince of Peace. (Isaiah 9:6 Contemporary English Version)
Though you have made me see troubles, many and bitter, you will restore my life again…you will increase my honor and comfort me once again. (Ps. 71:20-21)
Recommended book: Moments for Families with Prodigals by Robert J. Morgan. This is a wonderful book full of encouraging devotions and stories. Definitely one of my favorites.
If you decide to try using a God Box, I'd love to hear about your experience with it! Please share in comments or email me personally.