Today's post is from guest blogger Linda S. Clare, a fellow hurting parent and author of a recently published book I've been enjoying, Prayers for Parents of Prodigals.
When ocean waves are sparkling and calm, a ship glides along smoothly. Then—wham!—a huge sneaker wave swamps the deck, and passengers scramble into lifeboats. We parents of those with Substance Use Disorder are like that ship. As long as it's calm, we tend to sail along, too. Until the next disaster crashes over us.
Suddenly we're alone in the vast ocean and the sharks are circling. What can possibly save us?
My middle son, whom I'll call Seth, has struggled with meth since he was about twelve. During one bad "storm" in his decades-long meth addiction, I let the waves of catastrophe nearly sink us both.
Enmeshed
One day when he was around nineteen, Seth was due to appear in court on a minor charge. Problem was, he'd been on a week's long meth binge and now slept so deeply that I couldn't wake him.
I glanced at the clock—just enough time to get downtown—and gently shook him. "Son," I whispered, "you don't want to be held in contempt. Wake up. You go before the judge in forty-five minutes."
His eyelids fluttered. I tried again—softly. Since infancy, he'd slept deeply and had been grumpy in the mornings.
During his elementary school years, it often took both my husband and I to get Seth out of bed and off to school. Even then, around fourth grade he started running away from school. Once, the entire school went on lockdown before I found him hiding under a cardboard box in our garage. He was often moody, anxious and paranoid, even before methamphetamines altered his personality. I loved my boy, but he tended to be the classic "middle kid."
Now, my stomach tied itself in a thousand knots. I first cajoled, then shook and finally yelled at my snoozing son. Whether he heard me or not, I don't know. But with twenty minutes to get downtown to the courthouse, I panicked.
At the time, I didn't understand enabling. Brought up to be a law-abiding citizen, I couldn't imagine getting in trouble with a judge. Since Seth had turned eighteen, I seemed to be forever trying to talk someone out of punishing him. Whether a teacher, principal, counselor or cop, I pled my son's case.
Looking back, if anyone had offered to let me take the punishment in his stead, I'd have jumped at the chance. That's how tangled I'd become in Seth's life. They call it enmeshment but that day, I saw my actions as pure mother's love.
I left Prince Charming to his dreams and appeared before the judge in my son's place.
As I went through courthouse security, my hands wouldn't stop shaking. No, I didn't have any weapons. The security guard grinned at me as if to help me relax but I stared straight ahead. Nobody knew that if I'd smiled, my face would've broken right in two.
Struggling With Shame
The judge was kinder to me than he needed to be, explaining the rules. I told him that my son needed mental health help in addition to drug treatment, that Seth wasn't a bad person. He wasn't violent and his worst crime—in addition to possession of a small amount of meth—was not having a working bicycle light. By the time I finished, tears streamed down my cheeks.
I was stunned. His Honor listened. By God's grace he didn't penalize my son that day, although he warned that Seth needed to make an appearance, pronto, or face contempt. I started breathing again as my rickety little boat quietly sailed home, filled with gratitude and new hope.
But below decks, the hold brimmed with shame. Shame for how addiction had sucked me into enabling my son. Again. Shame that I didn't allow Seth to face his own consequences. Shame for raising a less-than-perfect son whom I could not control. Shame and hope battle for dominance every moment of every day as I fight to stay afloat.
Many days, the tsunami of Seth's drug use—plus his two brothers' alcoholism—washes the hope right out of me. That's when shame grabs the helm and steers me toward the rocks of enabling once again.
4 Changes that Made a Difference
Yet as I reflect on my behavior on my son's day in court, I see progress. Since that day:
1.) I loosened my grip when it comes to covering for my grown children, and I'm doing it without becoming bitter or disconnecting from them.
2.) I allow them to reclaim the consequences of their actions—both good and bad.
3.) I take self-care much more seriously,
4.) I practice deepening my spiritual connections to help me ride out the inevitable storms.
The day I went to court for my prodigal son, I hoped to solve a problem. But covering for him didn't give us anything—except that he got a bit more shut-eye and my anxiety temporarily calmed down. Soon enough, my son was out on a new meth binge and I was back to worrying my fool head off.
These changes I've made since that day have been hard-fought and gradual. I didn't wake up the next day and suddenly stop
trying to fix my son. As an enabler, I make mistakes a lot—just ask my counselor. But for me, Isaiah chapter 46:4 keeps hope a few steps ahead of shame and all its henchmen.
Even to your old age and gray hairs I am he,
I am he who will sustain you.
I have made you and I will carry you;
I will sustain you and I will rescue you.
Isaiah 46:4
My three grown sons with substance abuse and mental health issues still rage in my life like sudden storms, daily daring me to stay on an even keel. But I get through the awful parts with this: In my life, God hardly ever delivers me out of a problem. But He always carries me through it.
I hope you'll let Him carry you too.
Making those 4 changes will help: losen your grip; let them experience natural consequences, take care of yourself and strengthen your spiritual connection with God.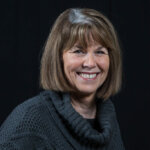 Linda Clare is the award-winning author of seven books, including Prayers for Parents of Prodigals (Harvest House, 2020) and the novel The Fence My Father Built (Abingdon, 2009).
A frequent contributor to Chicken Soup for the Soul and Guideposts, Linda is a Power Mom at MomPower.org and active in parent groups concerning Substance Abuse. No matter how chaotic her life becomes, she clings to hope in the belief that God carries her through. Keep Hoping! She lives with her family in Oregon. Connect with her on Twitter (@Lindasclare), Facebook or on her website https://Lindasclare.com.
**from the archives