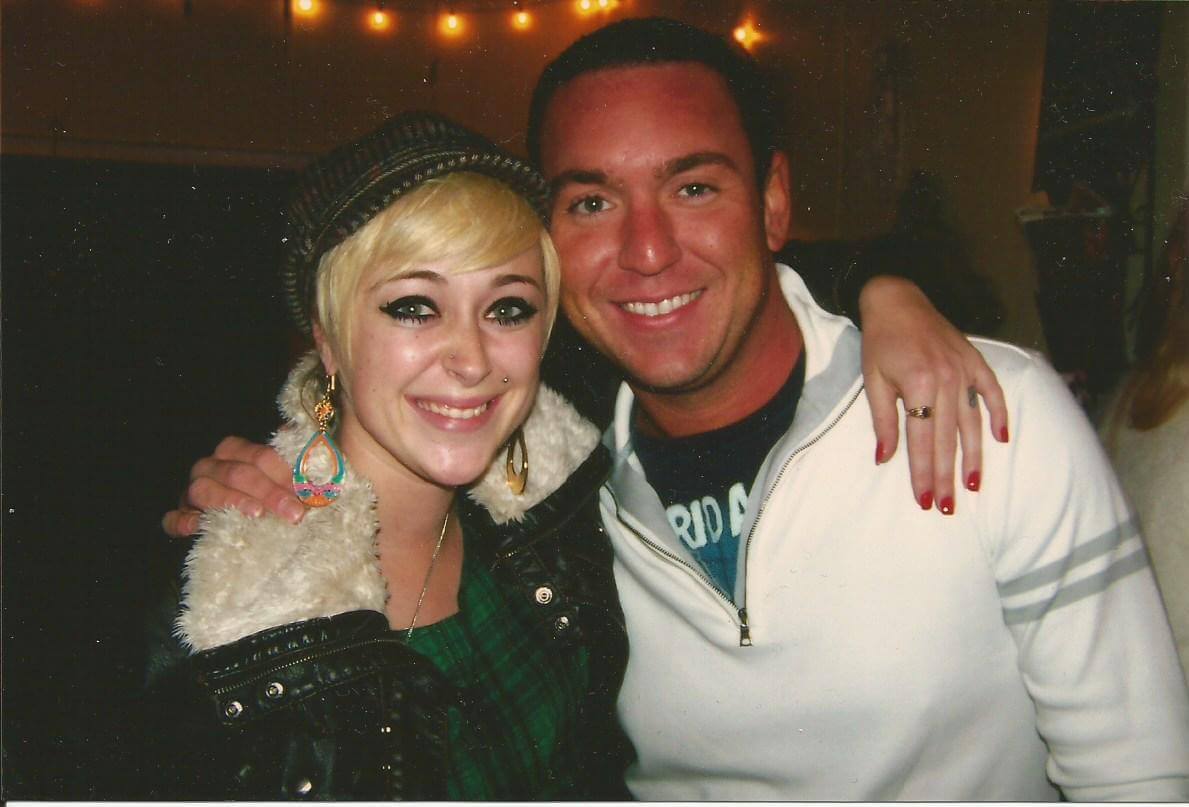 How do you adequately thank someone for saving your child's life who was in bondage to addictions? What do you say to the person who selflessly gave so much of themselves with no thought of gaining anything in return? What do you give them in return? I don't know. I've asked myself this question for the last eight years. Nothing seems to be sufficient. There aren't enough words, enough hugs, enough prayers, gifts,or demonstrations of gratitude.
When I was brokenhearted, feeling hopeless over my daughter's alcohol and drug abuse, cutting, depression and suicidal tendencies, an amazing thing happened. God brought an ordinary man who did something extraordinary. As a result, he became my hero. Let me tell you about him. His name is David McKenna.
The night before my daughter went into a residential drug and alcohol rehab program for the first time, something quite unexpected happened. She attended a church service where she heard a young man (David McKenna) share his own personal story of recovery from a cocaine addiction.  She felt like he was speaking straight to her. Inspired by his example she had the opportunity to meet him afterward. A special connection was made, and by the time she left that night, he promised support and community upon her return. Well, he kept his promise and became far more in her life than anyone could have imagined.
After returning from rehab, my daughter relapsed and her addictions took over again. David knew her life was at stake. He'd been there – in her shoes –  he knew this could only end in one of three ways:  Jail. The hospital. Or death.  There would be no conning him. With the help of a few friends, he proceeded to get more deeply involved in her life.
He couldn't stand by and watch her destroy herself. Later, with strong conviction and tears in his eyes, he would tell us that he felt "compelled" to do something. You can read here what happened during five very special days that changed her life. The outcome was the birth of an international non-profit, To Write Love on Her Arms (twloha.com and on Facebook) that has profoundly impacted millions of lives all over the world. David was the unsung hero behind it all.
Over the next eight years he was the strong voice that she needed in rough times, of unconditional love and support, of determination to never give up. He was the one she would reach out to in her darkest moments of relapse and hospitalization, always there to encourage, support and listen. They developed a genuine, authentic friendship built around a common struggle with addiction, founded on trust, honesty and above all, love. A brother-sister love.
How many people care like that – care enough to get involved – live a life of such impact? Extraordinary. This was David. An ordinary man who did extraordinary things which made him stand out from the average person. A real hero. Over the years since then, I would come to know him as a man who went the extra mile to help. One who consistently cared with his actions, not just words. Full of compassion, he was one of the few who would call and ask how my husband and I were doing.  "Let's meet for coffee. I want to hear how you guys are."  And he kept calling. And I grew to love him for it – love him like a son.
I would also come to know him as a dream-builder who believed in people and had a way of bringing out their best qualities. But not just for my daughter. He was passionate about helping other people fulfill their dreams, too. It was one of his life goals. He excelled at it. That's what he did for my daughter. He helped her begin to rebuild her life – one worth living. He inspired her to dream again. Eventually, he would become her manager; challenge her to write a book, then published it (Purpose for the Pain). He even produced a movie called Renee – reneethemovie.com – about those five life-changing days I mentioned that inspired the beginning of  To Write Love On Her Arms. He passionately wanted to produce it for one reason – to give hope to those who battle with addictions. Hero material, wouldn't you agree?
Please don't misunderstand. David wasn't perfect. He was a flawed hero. He had his own share of relapses and failures – his demons to fight. But when he fell, he was honest and open about it. He never stayed down. He never quit – never gave up. He kept fighting, kept getting back up, kept dreaming, and inspiring others to do the same. I loved him even more for these qualities. Watch an interview of him sharing his story here. It was recorded by the I Am Second campaign in 2011. It's powerful. Prepare yourself to be deeply moved and inspired.
Thank you, David. You touched my life in such a powerful way.  I will be forever grateful to God for you.  You will always be my hero. You inspired me to make the most of my life like you did, because as you said in your I Am Second interview, "There may not be a later".
***David McKenna was killed in a car accident on December 14, 2012.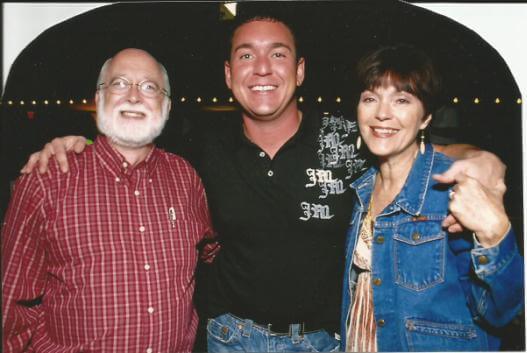 This is a photo of my husband and I with him taken a few years ago.